The large quantities of concrete used in the construction of the new performance space may seem to run contrary to the school's commitment to use materials with a low embodied energy. Unlike cob, which is mixed from material mostly found on site, a great deal of energy goes into the production of cement. But fear not, dear reader. The cement used in the spiral shell was once waste. After striking a deal with the suppliers who provide concrete for the roadworks on the Great Western Highway, Jason was given the leftovers. What would have been waste, earmarked for landfill, is now the footing of the new building.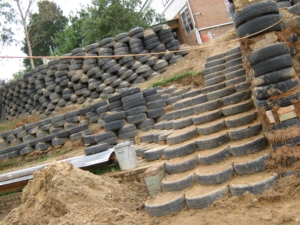 The tyres for retaining walls were secured in a similar way. Jason and his team hit every garage in the mountains and relieved them of their old unwanted tyres. (A big shout out to Ray and Bruce of Lawson Car Care).  Hundreds of tyres, no longer suitable for cars, now make up the frame of the terraces, stairwell and the walls of the workroom.
Over the next few months we look forward to watching the construction of the stairway onto the new veranda. Word is that Pippita is designing the mother of all  handrails.