Welcome to Kindlehill – a Steiner school in the Blue Mountains, NSW
Kindlehill (a K-10 Steiner school) opened in the year 2000, and sits on a hill above Wentworth Falls lake, in the Blue Mountains, NSW.
We are an independent school working creatively and in a contemporary way, out of the foundation of Rudolf Steiner's philosophy for education.
We hold regular Fairs and Open Days to celebrate our community and to open our school to friends.
Kindlehill runs programs from Playgroup through to High School (Year Ten).
Parents are welcome to arrange a formal visit of the school by contacting community@kindlehill.nsw.edu.au or calling 02 4757 4402.
Term 3 ends Friday the 21st of September. See you for Term 4 on the 8th of October!
BUSH FIRE SEASON
Kindlehill staff and students are prepared for bush fire season: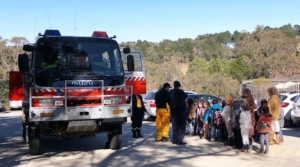 Our bush fire response is:
Everyone on site is to seek refuge in the main building of the school.
Everyone on site is to take direction from the school's nominated fire safety team.
The school will be actively communicating with emergency services throughout the process.
Parents will be contacted via SMS from a central Kindlehill communication point.
The RFS recommend two applications for your smartphone: Fires Near Me & Emergency.
Prepare your family for bush fire season. In this beautiful bushland setting, it is important to know and communicate your family bush fire plan.
https://gallery.mailchimp.com/4fd16fa15a7eac1a3e4e390cb/files/149ef977-ec10-40d6-837b-931f1bdded14/Advice_to_parents_on_preparing_for_bush_fire_season.pdf