Welcome to Kindlehill – a Steiner school in the Blue Mountains, NSW
Kindlehill (a K-10 Steiner school) opened in the year 2000, and sits on a hill above Wentworth Falls lake, in the Blue Mountains, NSW.
We are an independent school working creatively and in a contemporary way, out of the foundation of Rudolf Steiner's philosophy for education.
Parents are welcome to arrange a formal visit of the school by contacting community@kindlehill.nsw.edu.au or calling 02 4757 4402.
Term 3 Ends 20/9 – Term 4 Begins 14/10
2020 Aboriginal and Torres Strait Islander Scholarships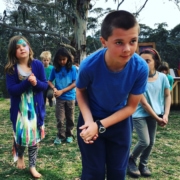 We are offering full scholarships to students starting in 2020 for their period of schooling at Kindlehill*. The scholarships are offered in the spirit and enrichment of the education provided to all the children and young people at Kindlehill.
To apply for a scholarship or for more information, please contact the school on 02 4757 4402 or community@kindlehill.nsw.edu.au
*Scholarships can only be offered in classes where there is space for new students.